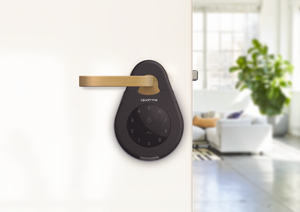 igloohome Keybox 3
The smart lock that's bigger, better and smarter
The igloohome Smart Keybox 3 is a smart box that stores house and car keys, access cards and more for easy retrieval. Designed for hassle-free sharing. the Smart Keybox 3 now comes with even more space and more features for your convenience.  
2 Modes of Access
Create and send PIN codes to guests for easy retrieval of keys and access cards. You can also use Bluetooth keys to unlock the Keybox 3- simply use your smartphone within range.
Loaded with Essentials
Now with double the space, the Keybox lets you store more than the essentials. From house keys to access cards and even car key fobs, the interior is spacious enough to handle multiple items at one go. It also features a pocket design to prevent your valuables from falling out.
Versatile & Universally Adaptable
No door is left out with two shackle sizes, the Keybox is optimised for shackling on door knobs, handles and even fences. Alternatively, you can also mount it on walls or firm structures. No installation woes or door alteration needed.
Always at your service, rain or shine
The Keybox 3 comes with improved resistance to the elements. Tested to withstand dust and light rain (IP66 certified), it's built with heavy-duty materials to ensure durability and resistance to impact. It is also designed to be scratch-resistant to protect both your door and lock box.
Safe & Secure
Grant Access When You're Away: With the mobile app, you can send PIN codes and Bluetooth keys from wherever you are. Our unique algoPIN™ technology makes this possible through secure encryption and synchronisation. You don't have to be near the lock box to grant access.
Choose How Long You Want to Give Access for: The validity period of PIN codes and Bluetooth keys can be customized for each visitor. Choose to give hours, days, weeks, or permanent access.
View Access Logs: Access logs are provided to enable users to track when visitors come and go. Greater visibility allows for greater peace of mind.
Syncs with Airbnb: Hosts can synchronize their listing calendars with their igloohome account so that PIN codes are automatically generated and sent to guests, at no extra charge.
Security Features
Decoy Security Code: Enter up to 8 random digits before your password to reduce the risk of a PIN code being exposed by intruders checking for fingerprints.
Auto Re-lock: The Keybox 3 automatically re-locks once it is shut, for greater security. Additionally, if the lock box is unlocked but remains closed, it will automatically re-lock after 30 seconds. Users can ON & OFF Auto relock functionality via Bluetooth. A relock reminder Alert will be triggered if the lock is not locked within a period of time
Security Lockout Mode: If an invalid PIN code is entered 5 times, the smart lock box will go into security lockout mode and stop operating for 1/5/10 minutes.
Security Alarm: If the Keybox 3 is not closed properly, it will beep to indicate that it is not secure. Beep volume is adjustable. 
Emergency Jump-Start: When the internal batteries are fully drained or on low battery, an external USB A-to-C / C-to-C cable connected to a power bank can  be used to  jump-start the lock and provide emergency power.
Instant access request -  A guest may use the app to scan a QR code on the keybox to physically request access from the owner. Once access is approved by owner, the guest will receive a bluetooth key to unlock the keybox. 
Grant Access Anytime